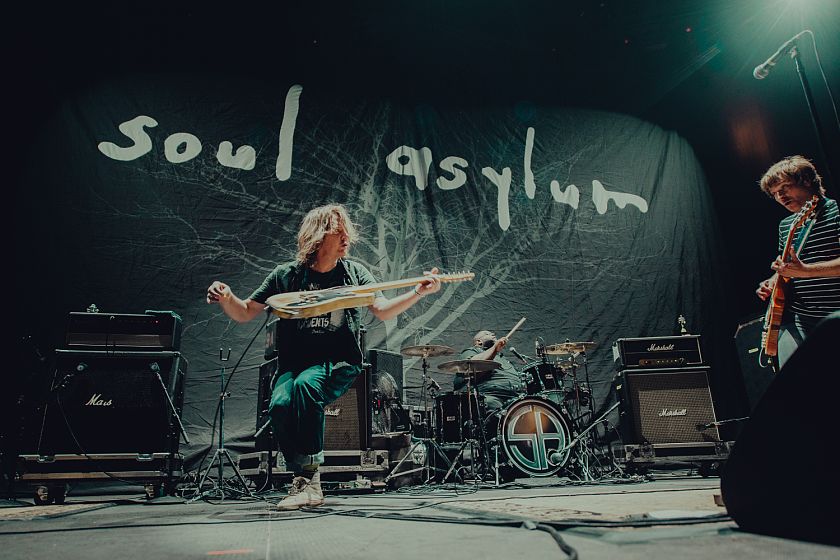 Soul Asylum
Soul Asylum
Since the '80s, Soul Asylum has been one of the most inspiring and hardworking bands in the rock scene, known for their raucous but emphatic combination of punk energy, guitar-fueled firepower, and songs that range from aggression to heartfelt. Initially known as Loud Fast Rules, the band formed in Minneapolis, MN when front man Dave Pirner was still in high school, and quickly became part of the celebrated Minneapolis music scene along with such cohorts as The Replacements and Hüsker Dü.
They entered the major-label world with 1988's Hang Time, and shortly after released And the Horse They Rode In On. The Minneapolis band broke through commercially with the double-platinum 1992 album Grave Dancers Union. The full-length earned steady alternative radio and MTV airplay on the strength of the Billboard Hot 100 Top 5 hit "Runaway Train," which won the Grammy for Best Rock Song, and the #1 Modern Rock smash "Somebody to Shove," as well as, "Black Gold." Soul Asylum continued to enjoy mainstream success with their next album, 1995's platinum-certified Let Your Dim Light Shine, which featured the international hit "Misery." After the 1998 release of Candy from a Stranger and over a decade of touring Pirner decided to put out his first solo effort, Faces & Names.
In 2005 the band suffered a devastating blow with bassist Karl Mueller passing away due to complications from cancer. The following year The Silver Lining was released, and was the last album that Mueller played on.
In their more recent years the band released Delayed Reaction, their 10th full- length studio album, and Change of Fortune. Soul Asylum continues to add to a catalog that illustrates Pirner's enduring gift for insightful songwriting that digs into our deepest, most vulnerable emotions. The quartet—which now includes drummer Michael Bland (Prince / Chaka Khan), lead guitarist Ryan Smith and bassist Jeremy Tappero—recorded their most recent album, 2020's Hurry Up and Wait with long-time studio collaborator John Fields, which placed the band back on the Billboard charts.
Also in 2020, Pirner published Loud, Fast, Words, a book of his lyrics accompanied by commentary and essays about each Soul Asylum album and song. American Songwriter Magazine said, "Loud Fast Words stands ahead of the monotony of the thousands of other lyric books on shelves, thanks to Pirner's brash and rock 'n' roll personality bleeding through the pages".
As the list of records keeps stacking up, fans have enjoyed several reissues of earlier releases, including a complete boxset detailing a look into Soul Asylum's early days with expanded and remastered editions of their first 4 original albums, plus bonus material, entitled "The Twin Tone Years." Also in 2018, a rare live album hit record stores from their 1992 performance at Liberty Lunch in Austin, TX.
Other career highlights include Soul Asylum's MTV Unplugged performance, playing at the MTV Inaugural Ball for President Bill Clinton, and performing at the Rock & Roll Hall of Fame opening concert with Lou Reed and Iggy Pop. Songs by Soul Asylum have also garnered spots on multiple compilations and soundtracks including Kevin Smith cult classics Chasing Amy and Clerks.
As Soul Asylum heads into 2023 (and beyond) with more touring and recording on the horizon, the band is refreshed and ready to embrace whatever comes next. "The first time you go into the studio, it's terrifying," Pirner says. "You're on the clock and you have to play and sing well... Now it's like being a mechanic that's been working on cars his whole life—you just do it." However, Pirner isn't necessarily one for nostalgia. More than 40 years after Soul Asylum coalesced as a band, he is the rare musician who pairs the confidence of a seasoned veteran with the unflagging enthusiasm and ambition of an artist just starting out. Buoyed by an energetic and unparalleled live show and Pirner's prolific songwriting, Soul Asylum isn't stopping anytime soon.
"I'll look out at the crowd and see people singing along with my songs of frustration and insecurity, and the irony is not lost on me. There's a part of me that's never gonna fit in, but I love being around people who love music, and I'm very loyal to the idea of whatever Soul Asylum is. The future is bright, everything is good, and if there's something in the music that can make people feel like things are gonna be OK, then it's mission accomplished." – Dave Pirner.
Soul Asylum

7:00 PM - 8:15 PM

Soul Asylum

9:00 PM - 10:15 PM